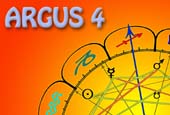 Click to Download Argus 4 (Size: 2.9 MB)
Use this download if you wish to try the program. The download will install the program on your computer. Initially, it will be limited to horoscopes for year 2005. To have a fully working program, you need to purchase the program to get a full license, or get a free temporary license, which will let you try it full-feature for 4 weeks. To get a temporary license, send us an email. The license you get is five bits of data (serial numbers, your full name, control-code etc), which you type into the registration dialog box in the program.
To get a full license, you order on our web site. You can pay by credit-card over the telephone or online via Google Checkout.
To install the program, just download and choose OPEN when the dialog appears asking if you will open or save to disk. When the download is ready the installation starts automatically, just follow the instructions.
If you do a second install later and you let it use the same installation folder, the installation will ask if you wish to overwrite your existing data. If you just press OK, you may loose the birth data, you may have typed in, if you did not make a backup. Argus has a backup facility, which you can use to minimize the risk of data loss.